Aurelia Baumgartner
is a 'philosophizing dancer and dancing philosopher'.

She studied philosophy, theater and literature at the LMU University of Munich (Master of Arts), and had her formation as a
professional dancer at 'Iwanson International'. During her studies she worked

at WDR television station "Philosophy Today" in Köln. Meanwhile she was touring worldwide as a freestyle ski dancer with
the National Team of Germany. Since 2001 she is head of the School of Contemporary Dance in Berg (Munich).

2004 she founded the Aureliana Contemporary Dance Project and started to produce full-length dance and video performances,
to be broadcasted in Germany and throughout Europe.

From 2007-09 she performed as a soloist at the group" Sol y Sombra". 2010/11 she danced in the production "Co-Pirates" of
Richard Siegal at the opening of the Dance Festival 2010 in Munich.

Choreographic Captures' and her illustrated book 'Tanzgedanken Gedankentänze'( 'danceminds-minddances') are only a few
examples oher extensive creative work.

Inspired by her work as a dancer, choreographer and philosopher she develops "Körper-denken", "body-thinking", a semiotic
theory of the body in which relations created out of movement are world structuring and world creating.










Vincenzo Lapertosa
was born in Alberobello, Italy.

He graduated at the 'Academia Nazionale di Danza'in Rome. Then he studied at the 'Scuola Cechetti' and with other famous
international ballet masters.

Vincenzo Lapertosa danced in different dance companies as the ballet of the Arena di Verona and was soloist at the ballet of
Milan and at the Birgit Cullberg Ballet.As ballet master he worked with the 'Balletto della Fondazione Piccini' in Bari and at the
Stadttheater Ulm.

As choreographer he created several choreographies like "Danza Sourana"1997, "Koho'zos" 1999, "Installazione" 2002 and
"Dove sei ? Madre" 2004.

Vinenzo Lapertosa accomplished his studies at the acting school of Dominique de Facio in Rome and was engaged in several
films.

Nowadays he is dancer at the extra ballet of the 'Gärtnerplatz Theater' Munich and member of the 'Aureliana Contemporary
Dance Project' in Munich.
He teaches classical ballet and contemporary dance.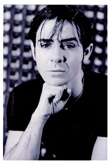 Musicians:


Franz Schledorn - Trombone


Ken Weinzierl - Guitar


Markus Wagner - Bass